The Prosperous Period
The year 1940 began many decades of an active and prosperous period for Congregation Shaaray Tefila. The synagogue was the venue for regular religious services, Hebrew School and Sunday School for the children of members. The photo insert below shows the pupils in the thriving Talmud Torah and Sunday School in approximately 1945.
Talmud Torah and Sunday School Pupils with Staff around 1945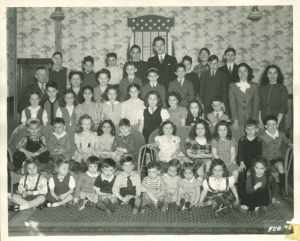 Front row (left to right): Arlene Lazarus, Annette Tate, Diana Handler, Raphael Greenspan, Burton Beck, Louis Epstein, Joy Ginsburg, Barbara Aronson, Rochelle Saidel, Dorothy Dube.
Second row (left to right): Michael Ginsburg, Benjamin Aronson, Lynn Greenberg, Libbie Goldstein, Richard Garlen, Barbara Epstein, Phyllis Weidberg, Arlene Weidberg, Robert Ginsburg, Edward Aronson.
Third row (left to right): Linda Fox, Jack Tate, Eleanor Levine, Rosalie Goldstein, Sandra Aronson, Caroline Dube, Marilyn Lazarus, Ruth Aronson, Barbara Levinson, Barry Novak, Miriam Aronson, Joan Solomon.
Fourth row (left to right): Mr. And Mrs. Jack Levine, Mrs. David Epstein, Barton Cohen, Alvin Yanklowitz, Norman Block, Martin Beck.
Back row (left to right): Robert Aronson, Theodore Block, Harry Goldstein, Stephen Dube, Rabbi Jacob Handler, Robert Block, Harold Kudan, Arthur Aronson.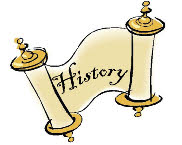 NEXT >
For more History of Congregation Shaaray Tefila, please visit the Folk Art Center at Crandall Public Library.