Children's Programs
Sunday School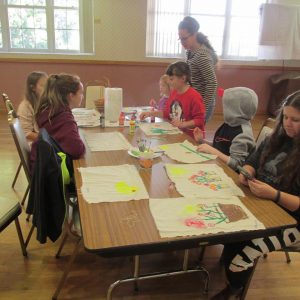 Sundays 9:30 – 11:00 AM in our Main Social Hall
ALL EVENTS are for boys and girls ages 6 – 18
Shaaray Tefila Religious School focuses on individualized instruction in Hebrew and Jewish studies led by knowledgeable congregants. Lessons are held Sundays during the school calendar year from 9:30 a.m. to 11:00 a.m. or by appointment. Bar/Bat Mitzvah preparation will be incorporated into these lessons, along with additional study with the Rabbi. All children are strongly encouraged to attend any of our many holiday, weekday or Shabbat services in order to become familiar and comfortable with some of the many ways that we do Jewish things together.
Parents are encouraged to accompany their children to class. If more than one child in a family will be attending lessons sequentially, a responsible adult should supervise the child who is waiting. Periodically, we will have joint sessions for prayers, celebrations and other activities. Religious school is free for members. There will be a $50 charge per semester for non-members.
Please contact Mark Hoffman at shaarayt@yahoo.com to discuss your child's Jewish education plan.