Holy Ark
Holy Ark from the Jay Street Synagogue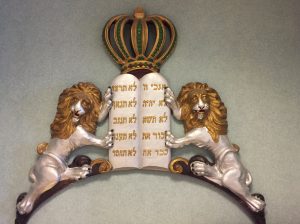 The first link below is an assembled image of the top of the massive hand-carved Holy Ark (Aron Kodesh), created for the Jay Street Synagogue. A huge carved wooden cabinet housed the Torah Scrolls. Across the top of the cabinet, a plaque with raised Hebrew letters contained the following dedication (translated from right to left):
A gift of the Hevrat Nashim (Woman's Association)
"I have set the Lord always before me" (Psalm 16: 8a)
In the year 5666 from Creation (as reckoned in the Hebrew calendar, which corresponds from September 30th 1905 to September 16, 1906.
Today the three pieces that had been mounted one on the other in the front of the synagogue are now displayed in three sections mounted on the wall of the first floor chapel of Shaaray Tefila, the location of most services.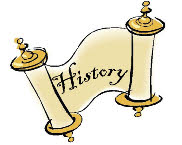 < BACK
For more History of Congregation Shaaray Tefila, please visit the Folk Art Center at Crandall Public Library.