Jay Street Synagogue
During the last decade of the nineteenth century, the Jewish people of Glens Falls worshiped in a building on Jay Street. On July 19, 1892, the Hebrew Congregation Sara Tafela of Glens Falls, New York, was legally incorporated under the guidance of Rabbi Laska. Subsequently the synagogue building was constructed on Jay Street. One source suggests the year 1893, while another states the Jay Street Synagogue was built in 1902. This was an Orthodox synagogue built to provide a house of worship and a mikvah for the middle European Jews that had come to America.
According to Glens Falls residents Orel Friedman, M.D. (1913 –2014), and Sunny Buchman, most of the Eastern European Jews who migrated to the United States and then Glens Falls from the 1880's to the early 1900's lived in the West End Section of Glens Falls. It extended west from South Street with Broad Street as its center with Lower Hudson Avenue on its south and Montcalm Street to the north. (See section highlighted in yellow).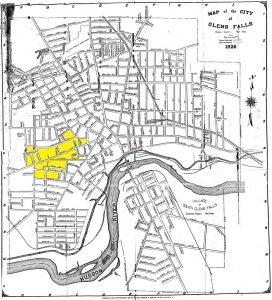 The Jay Street Synagogue (highlighted in red) was about a 20 minute walk from Mission Street. Dr. Friedman remembered the synagogue as being Orthodox, with men and women in separate sections and no English spoken during services. He celebrated his Bar Mitzvah at the Jay Street Synagogue in September 1926.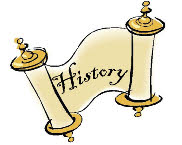 NEXT>
For more History of Congregation Shaaray Tefila, please visit the Folk Art Center at Crandall Public Library.