About Our Rabbi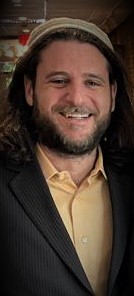 Congregation Shaaray Tefila is delighted to introduce our new Student Rabbi, Naftali Hirsch.
Naftali is looking forward to being able to meet each of you in person at Shaaray Tefila and getting to know you over this coming year. He grew up near Toronto, Canada, engrossed in a small, vibrant, and heimisch Jewish community, and has spent much of his life pursuing, creating, and supporting this kind of Jewish life. Naftali is entering his final year of rabbinical school at Hebrew College where he has enjoyed studying the classic works of our tradition, as well as more mystical sources. In college, Naftali studied history and philosophy at McGill University in Montreal, where he also worked in kitchens and as a snowboard instructor. When he's not in shul, or pouring over books, he loves to hike and spend time outdoors.
It is an honor and a privilege for him to be able to join this community.
Let's all give Naftali our great Shaaray Tefila welcome as he comes onboard.
Welcome Naftali!!