Glens Falls Jewish Community
In 1925 the Glens Falls Hebrew Association, which involved the entire Jewish community of Glens Falls, bought land and built a community center at 68 Bay Street. The building, designed to function as a Jewish "Y," became the center of Jewish activity in Glens Falls. It had a gym and basketball court on the second floor and its own basketball team. It became the home of the Charles Gelman Lodge chapter of B'nai Brith, the Hebrew Free School, the United Synagogue Youth (USY), and the Alpha Beta Gamma Fraternity and Delta Phi Nu sorority.
In 1931, Congregation Shaaray Tefila asked permission to hold services in the Community Center building from the High Holidays until Passover because the Jay Street Synagogue was no longer viable. Daily minyans continued at the home of Mr. and Mrs. Samuel Aronson (55 Montcalm Street). By 1934, the Community Center was used extensively and the five remaining Torahs from the Jay Street Synagogue were brought to the Center to join with the two already there.
In 1939, the Jay Street building was sold. It later housed Calvary Tabernacle and then the Veterans of Foreign Wars; eventually it was razed for Urban Renewal. In 1940, the Community Center's second floor basketball court was declared "unsafe." The Hebrew Association deeded the Center building to Congregation Shaaray Tefila, provided they take over the mortgage payments. The basketball court was renovated to become the synagogue's sanctuary with seating for men and women to sit together for the first time.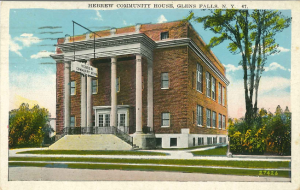 Hebrew Community Building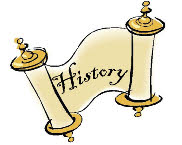 <BACK
For more History of Congregation Shaaray Tefila, please visit the Folk Art Center at Crandall Public Library.