WEEKLY ANNOUNCEMENTS
Friday, Feb 21 – Sunday, Mar 1, 2020 Candle Lighting Time – 5:15 pm on Feb 21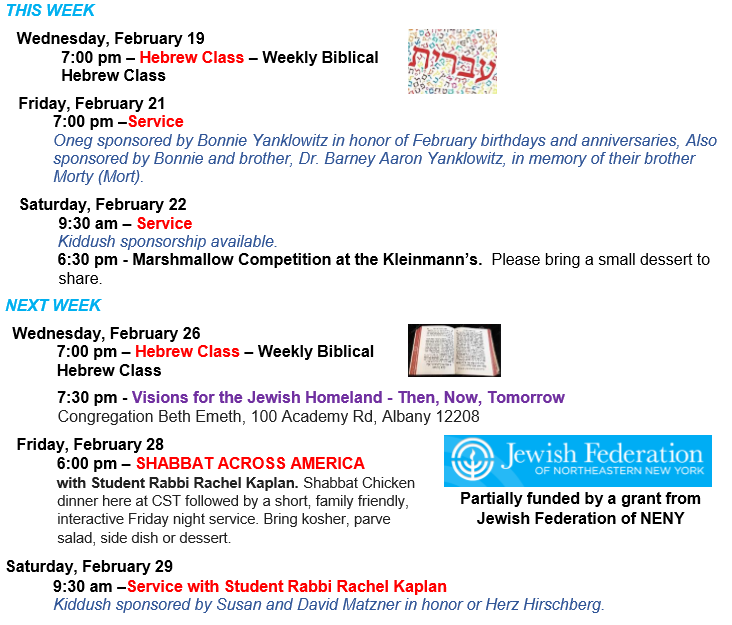 6:30 pm – Movie Night at CST! Bring a snack to share.
Movie change: "Jewtopia" Watch the trailer – click here.

UPCOMING EVENTS & PRESENTATIONS

Saturday, March 14
9:30 am – Bar Mitzvah of Azariah LaRock, with Student Rabbi Rachel Kaplan
Kiddush sponsored by Azariah's grandparents Dr. Mitchell and Robin Cohen.
YAHRZEIT LIST
From 2/16/20 to 2/29/20 (SHEVAT 21, 5780 – ADAR 4, 5780)
February 16 – February 22 (SHEVAT 21 – SHEVAT 27)
Name Observed on (civil) Jewish
| | | | |
| --- | --- | --- | --- |
| Joseph Eddleton | Sunday | 2/16/2020 | Shevat 21, 5780 |
| Annie Schwartz | Sunday | 2/16/2020 | Shevat 21, 5780 |
| Arthur Lewis Shapera | Sunday | 2/16/2020 | Shevat 21, 5780 |
| Esther Silverman | Monday | 2/17/2020 | Shevat 22, 5780 |
| Carl Suckman | Monday | 2/17/2020 | Shevat 22, 5780 |
| Isaac Alkes | Tuesday | 2/18/2020 | Shevat 23, 5780 |
| Lena Shapiro | Tuesday | 2/18/2020 | Shevat 23, 5780 |
| Celia Frost | Wednesday | 2/19/2020 | Shevat 24, 5780 |
| Maurice Lebowitz | Wednesday | 2/19/2020 | Shevat 24, 5780 |
| Abraham Levitt | Wednesday | 2/19/2020 | Shevat 24, 5780 |
| Anne Lucks | Wednesday | 2/19/2020 | Shevat 24, 5780 |
| Maurice Berman | Thursday | 2/20/2020 | Shevat 25, 5780 |
| Henrietta Besher | Thursday | 2/20/2020 | Shevat 25, 5780 |
| Joan Charisse | Thursday | 2/20/2020 | Shevat 25, 5780 |
| Gustave Cohen | Thursday | 2/20/2020 | Shevat 25, 5780 |
| Henry Cohen | Thursday | 2/20/2020 | Shevat 25, 5780 |
| Ida Hoffman | Thursday | 2/20/2020 | Shevat 25, 5780 |
| David Levitan | Thursday | 2/20/2020 | Shevat 25, 5780 |
| Joan Weill | Thursday | 2/20/2020 | Shevat 25, 5780 |
| Robert Weiner | Friday | 2/21/2020 | Shevat 26, 5780 |
| Edith Kurzweil | Saturday | 2/22/2020 | Shevat 27, 5780 |
February 23 – February 29 (SHEVAT 28 – ADAR 4)
Name Observed on (civil) Jewish
| | | | |
| --- | --- | --- | --- |
| Father Michael Abraham | Sunday | 2/23/2020 | Shevat 28, 5780 |
| Edith Block | Sunday | 2/23/2020 | Shevat 28, 5780 |
| Larry Berman | Monday | 2/24/2020 | Shevat 29, 5780 |
| Reva Cohen | Monday | 2/24/2020 | Shevat 29, 5780 |
| Ethel Juris | Monday | 2/24/2020 | Shevat 29, 5780 |
| Philip Goldstein | Tuesday | 2/25/2020 | Shevat 30, 5780 |
| Rose Greenberg | Tuesday | 2/25/2020 | Shevat 30, 5780 |
| Henrietta Lebowitz | Tuesday | 2/25/2020 | Shevat 30, 5780 |
| Peter Accardi | Wednesday | 2/26/2020 | Adar 1, 5780 |
| William Drazin | Wednesday | 2/26/2020 | Adar 1, 5780 |
| Stewart Stern | Wednesday | 2/26/2020 | Adar 1, 5780 |
| Samuel Suckman | Wednesday | 2/26/2020 | Adar 1, 5780 |
| Mayer Wexler | Wednesday | 2/26/2020 | Adar 1, 5780 |
| Michael Jack Forman | Friday | 2/28/2020 | Adar 3, 5780 |
| Jeanne Mandwelle | Friday | 2/28/2020 | Adar 3, 5780 |
| Irving Rosenberg | Friday | 2/28/2020 | Adar 3, 5780 |
| Lena Semelisky | Friday | 2/28/2020 | Adar 3, 5780 |
| Mollie Boorstein | Saturday | 2/29/2020 | Adar 4, 5780 |